Carl Weber Presents Ride or Die Chick 4 By J.M. Benjamin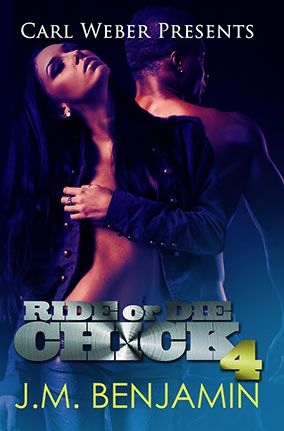 Carl Weber Presents Ride or Die Chick 4 By J.M. Benjamin
Life for Treacherous Freeman and Baby Love has been one nightmare after the next. After their escape from a Virginia mental institution and a series of crimes, murder and armed robbery are added to their resumes as they try to evade the law. Their actions soon make them VA's most wanted by more than just law enforcement.
Retired Ex-Chief Andre Randle has made a full recovery from his near death experience. Now, the only thing he can think about is taking down the young couple responsible for it. With the help of detective Arthur Love, father of Treacherous Freeman's ride or die chick Baby Love, Andre Randle goes on a manhunt a second time around to track down the ruthless duo before it's too late.
Now fugitives from justice, the Bonnie and Clyde pair knows there's no turning back now. Determined to finish what they've started, Treacherous and Baby move full speed ahead, with no clue of the heat that awaits them around the corner.
It becomes survival of the fittest as this story unfolds. While authorities want them behind bars and others want their heads on a platter, for Treacherous and Baby, there are only two options: ride to the bitter end or die trying!
Reviews